Portugal is a coastal paradise that offers a mesmerizing blend of stunning landscapes, golden sand beaches, and azure waters. With over 1,000 kilometers of coastline, this European gem boasts a myriad of picturesque beaches that cater to every traveler's desires. Whether you seek tranquility, thrilling water sports, or vibrant beachside nightlife, Portugal has it all.
Join us as we explore the top 10 beaches in Portugal, ensuring an unforgettable beach getaway for every adventurer.
1 - Praia da Marinha - Lagoa
Nestled amidst dramatic limestone cliffs, Praia da Marinha in the Algarve region is often considered one of Europe's most beautiful beaches. Its crystal-clear waters, secluded coves, and golden sand make it an idyllic spot for sunbathing and snorkeling. Take a boat tour to discover the hidden grottos and sea caves, and be awed by the enchanting beauty of this coastal gem.
2 - Praia da Dona Ana - Lagos
Situated near the charming town of Lagos, Praia da Dona Ana is a beach lover's paradise. This small yet enchanting beach is known for its unique rock formations, hidden alcoves, and crystal-clear waters. As you soak up the sun, you'll be captivated by the dramatic cliffs that surround the beach, creating a truly unforgettable setting.
3 - Praia do Camilo - Lagos
With its towering cliffs, sandy cove, and crystal-clear turquoise waters, Praia do Camilo offers a captivating and intimate experience. The beach's calm sea is perfect for swimming and snorkeling, while its hidden caves and grottos add a touch of adventure. Praia do Camilo's small size creates a tranquil atmosphere, allowing visitors to relax and soak up the sun. Surrounded by the breathtaking landscape of the Ponta da Piedade headland, this beach is a true natural gem waiting to be discovered.
4 - Praia da Rocha - Portimão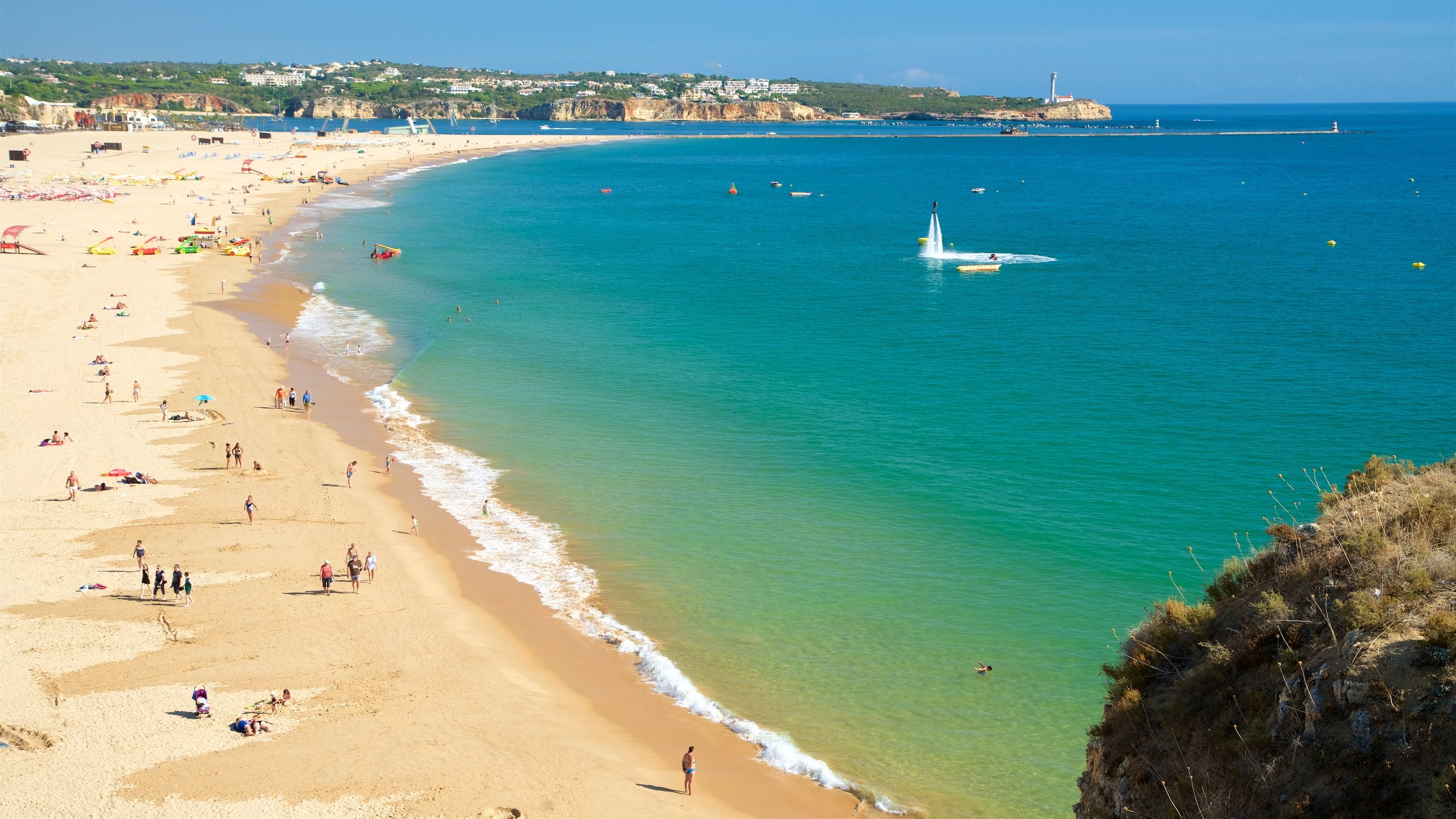 If you're seeking a vibrant beach experience, Praia da Rocha is the place to be. Located in Portimão, this bustling beach boasts a wide expanse of golden sand, vibrant beach bars, and a lively atmosphere. Enjoy water sports, beachside restaurants, and a vibrant nightlife scene, ensuring an exhilarating beach getaway.
5 - Praia da Falésia - Albufeira
Stretching for six kilometers, Praia da Falésia is one of the Algarve's most iconic and visually striking beaches. Backed by stunning red cliffs and lush pine forests, this beach offers a breathtaking setting for a day in the sun. Take a leisurely stroll along the expansive coastline and indulge in the beauty of nature.
6 - Praia de Benagil - Lagoa
Situated near the village of Benagil, this beach is renowned for its striking sea cave, known as the Benagil Cave. Accessible only by boat or kayak, this natural wonder is a must-visit. Admire the sunlight filtering through the cave's roof, illuminating the crystal-clear waters and creating an ethereal atmosphere.
7 - Praia de Carcavelos - Lisbon
Located just a short distance from Lisbon, Praia de Carcavelos is a favorite among locals and tourists alike. Known for its consistent waves, it's a hotspot for surfers and bodyboarders. With its wide sandy beach, beachfront bars, and restaurants, it's an ideal spot for both relaxation and excitement.
8 - Praia da Arrifana - Aljezur
Nestled within the rugged beauty of the Costa Vicentina Natural Park, Praia da Arrifana is a hidden gem in the Algarve region. Surrounded by towering cliffs, this beach offers a dramatic setting for beach lovers. Enjoy surfing, swimming, or hiking along the stunning cliffside trails, providing breathtaking views of the Atlantic Ocean.
9 - Praia do Norte - Nazaré
Yes, this is the one where Garrett McNamara broke a world record! Praia do Norte in Nazaré, Portugal, is world-renowned for its towering waves that attract surfers and spectators. Positioned at the foot of the Sitio cliff and fueled by the Nazaré Canyon, this beach offers a dramatic view of nature's mightiest swells. Beyond the surf, Praia do Norte provides a picturesque setting with golden sands, inviting visitors to relax and enjoy the coastal atmosphere.
10 - Praia Ribeira do Cavalo - Sesimbra
Praia Ribeira do Cavalo is a hidden gem in Sesimbra, Portugal, offering a secluded and serene retreat for nature lovers and adventurers. With pristine white sands and crystal-clear emerald waters, it provides a tranquil and uncrowded atmosphere. Praia Ribeira do Cavalo is known for its untouched beauty and wild charm, ideal for sunbathing, swimming, and snorkeling. Adventurers can explore hidden caves and cliffs, while enjoying breathtaking views of the ocean and coastal landscape.
Portugal's coastline is home to an array of breathtaking beaches, each with its unique charm. From hidden coves and picturesque cliffs to vibrant beachside hotspots, Portugal offers something for every beach lover. Whether you're seeking relaxation, water sports, or awe-inspiring natural beauty, the top 10 beaches in Portugal are sure to deliver an unforgettable beach getaway.
So pack your sunscreen, grab your towel, and discover all the experiences and tours we have for you to explore the paradisiacal beauty of Portugal's beaches.