The Douro Valley, nestled in the heart of Portugal, is a wine lover's paradise. Known for its breathtaking landscapes, terraced vineyards, and rich wine heritage, this region has gained international acclaim for its exceptional wines, particularly its famous Port wines.
Whether you're a seasoned wine connoisseur or just looking for a unique wine-tasting experience, Douro Valley has something to offer everyone. In this article, we'll take you on a journey through some of the best wineries that showcase the region's extraordinary winemaking expertise.
Quinta do Crasto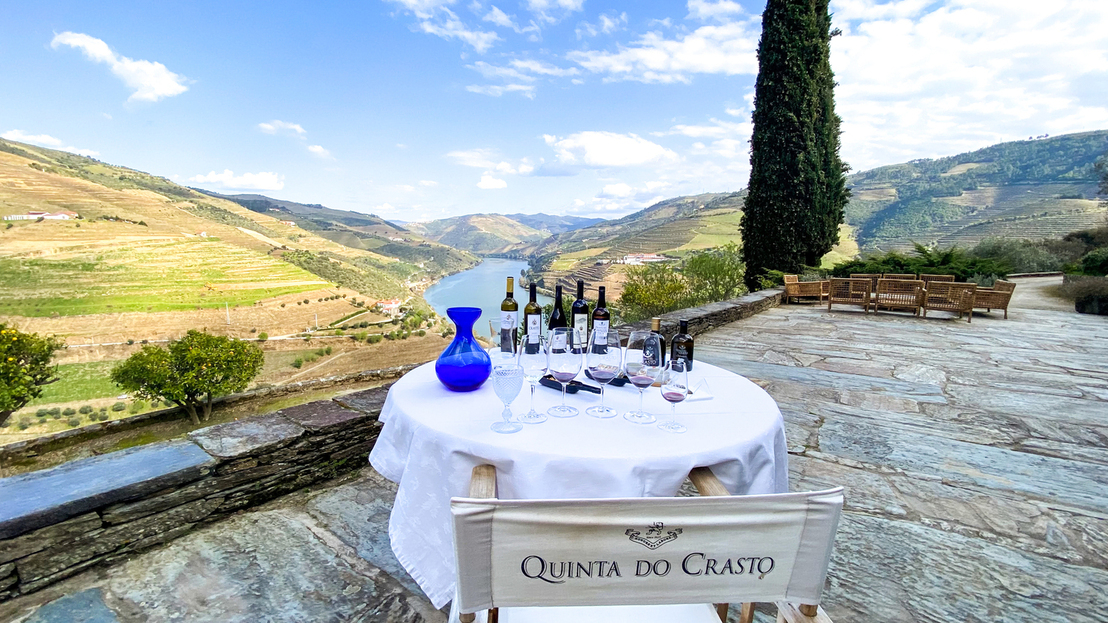 Quinta do Crasto is a renowned winery that holds a rich history spanning several centuries, tracing its roots back to the 17th century. With an idyllic location on the right bank of the majestic Douro River, this winery offers visitors not only breathtaking panoramic views but also an extensive selection of exceptional wines that are sure to satisfy even the most discerning palates. Their impressive portfolio encompasses an array of exquisite Ports, as well as an impressive assortment of red and white table wines that are bound to captivate wine enthusiasts.
Embarking on a journey to Quinta do Crasto enables guests to immerse themselves in the enchanting beauty of the vineyards, partake in delightful tastings, and gain a profound appreciation for the distinctive terroir that characterizes the esteemed Douro Valley.
Quinta do Vallado
This family-owned estate, founded in 1716, is not only one of the oldest and most esteemed wineries in the region, but also a testament to the rich history and legacy of winemaking. With over three centuries of experience, Quinta do Vallado has perfected the art of blending tradition and innovation, resulting in exquisite wines that have gained global recognition and admiration.
Visitors to Quinta do Vallado are in for a treat. Immerse yourself in the captivating world of winemaking as you embark on a guided tour of the estate. Explore the picturesque vineyards, witness the meticulous process of winemaking in the state-of-the-art winery, discover the secrets hidden within the ancient cellars and indulge in a wine tasting.
Whether you are a wine connoisseur or simply someone who appreciates the finer things in life, a visit to Quinta do Vallado promises to be an unforgettable experience that will leave you with a deeper understanding and appreciation for the world of wine.
Quinta do Noval
Known for producing some of the finest Ports in the Douro Valley, Quinta do Noval is a name that resonates with wine enthusiasts. The estate is renowned for its Vintage Ports, Tawnies, and Colheitas, which can be savored while enjoying the stunning views from their tasting room. A visit to Quinta do Noval is not only a journey through their winemaking history but also a glimpse into the elegance of Port wine.
When visiting Quinta do Noval, guests are not only treated to a tasting of their exquisite wines but also to breathtaking views from their tasting room. The experience is truly a feast for the senses, as the combination of stunning landscapes and exceptional wines creates an ambiance of pure bliss.
Come and discover the magic of Quinta do Noval, where tradition meets innovation, and where the love for Port wine is celebrated with every sip.
Quinta de La Rosa
If you're looking for a more intimate and authentic wine-tasting experience, consider visiting Quinta de La Rosa. This boutique winery, located in the beautiful Douro Valley region, has been in the Bergqvist family for several generations, and they take great pride in their rich winemaking heritage. With a focus on quality and craftsmanship, Quinta de La Rosa produces a wide range of exceptional Ports and table wines, each carefully crafted to showcase the unique terroir of the region.
In addition to their impressive wines, Quinta de La Rosa offers a truly picturesque setting. Their terraced vineyards, overlooking the breathtaking Douro River, provide a stunning backdrop for your wine-tasting experience. You'll have the opportunity to stroll through the vineyards, taking in the beauty of the landscape and capturing memorable photos along the way.
Whether you're a seasoned wine enthusiast or just beginning to explore the world of wine, a visit to Quinta de La Rosa promises to be a memorable and enriching experience.
Quinta do Panascal
Part of the highly esteemed Fonseca portfolio, Quinta do Panascal is an absolute must-visit destination for any true aficionado of Port wine. Situated in a truly exceptional location, the estate benefits from a climate that is perfectly suited for producing Ports of truly exceptional character. The guided tours offered at Quinta do Panascal provide a unique opportunity to delve into the fascinating world of Port winemaking, offering valuable insights into every step of the process, from the meticulous harvest to the meticulous aging process.
During these enlightening tours, visitors are treated to a delightful range of Ports, carefully curated to showcase the incredible diversity and complexity of this noble beverage that has captured the hearts of wine enthusiasts worldwide.
Quinta da Pacheca
Quinta da Pacheca, often referred to as the "Wine House," is not just a winery but also a captivating wine hotel. It offers visitors a unique opportunity to fully indulge in the fascinating world of wine. Guests can experience an unforgettable stay at the estate, where they will be treated to a range of delightful activities. These include informative guided tours, where they can learn about the winemaking process and the history of the estate. Additionally, guests can partake in wine tastings, where they can sample a diverse selection of high-quality Ports and table wines, each with its own distinct flavor profile.
To enhance the experience even further, the estate features exceptional dining options that showcase the perfect pairing of delicious cuisine with their outstanding wines. Quinta da Pacheca truly provides an immersive and enriching wine experience, catering to the preferences of all wine enthusiasts.
Quinta do Vale Meão

Quinta do Vale Meão is a family-owned estate that has gained immense recognition and admiration for its remarkable wines, including both table wines and Ports. This estate has established itself as a beacon of excellence through its commitment to innovation, sustainability, and the meticulous application of traditional winemaking methods. Moreover, the estate is blessed with awe-inspiring landscapes that serve as the perfect setting for an unforgettable winery tour.
During this enchanting experience, visitors have the opportunity to delve into the intricacies of the wine production process, unveiling the secrets behind the creation of their exceptional wines. The unparalleled quality and craftsmanship of Quinta do Vale Meão's wines have positioned it as an absolute must-visit destination in the Douro region, capturing the hearts and palates of wine enthusiasts from around the world.
Sandeman - Quinta do Seixo
Sandeman, an incredibly renowned and esteemed name in the world of Port wine, boasts a fascinating and extensive history that can be traced all the way back to the year 1790. Exploring their exquisite quintas, such as the famous Quinta do Seixo, provides visitors with an immersive experience into the brand's remarkable legacy and the intricate craftsmanship involved in the production of Port wine. Within Sandeman's illustrious portfolio, you will discover a diverse array of Ports, ranging from the timeless and sophisticated Tawny and Ruby styles to the truly innovative and groundbreaking "Founders Reserve".
Embarking on a captivating journey through time and embracing the cherished traditions, a visit to Sandeman promises to grant you a profound understanding and appreciation for the unparalleled excellence that defines their extraordinary Ports.
Quinta do Portal
Quinta do Portal is a renowned family-run estate situated in the picturesque and enchanting Douro Valley, which is widely recognized as one of the world's most prestigious wine regions. The estate, with its rich history and deep-rooted passion for winemaking, has established a stellar reputation for crafting exceptional table wines and Ports that captivate the senses.
At Quinta do Portal, the harmonious fusion of modern and traditional winemaking practices is emblematic of their unwavering commitment to excellence. By embracing cutting-edge technologies and innovative methods, while still honoring time-honored traditions, they consistently produce wines of unparalleled quality and distinction. Every sip is a testament to their unwavering pursuit of perfection.
Visit Quinta do Portal and allow yourself to be enchanted by their passion, expertise, and the breathtaking surroundings of the Douro Valley. It is an experience that will leave a lasting impression and create cherished memories that you will fondly look back upon.
Symington Family Estates
Symington Family Estates is a highly esteemed and well-respected name in the global Port wine industry. With a rich heritage and legacy, they have firmly established themselves as leaders in producing exquisite Ports. The Symington family owns and operates several renowned quintas, including the prestigious Quinta do Vesuvio, the esteemed Graham's, and the esteemed Warre's.
Each brand under their portfolio presents a unique and distinct experience, allowing you to explore the nuances and complexities of different types of Ports. Whether you have a preference for the elegance and complexity of vintage Ports or the smooth and mellow flavors of tawny Ports, the Symington Family Estates cater to every taste and preference.
From the vineyards where the grapes are carefully cultivated to the meticulous winemaking process, the Symington Family Estates pour their passion and expertise into every bottle. With their unwavering commitment to excellence and innovation, you can trust that each sip of their Ports will transport you to a world of unparalleled taste and enjoyment.
The Douro Valley offers a plethora of wineries, each with its unique charm, history, and exquisite wines. Whether you're an aficionado of Port wines, a lover of table wines, or simply someone looking to explore the beauty of this picturesque region, Douro Valley's wineries have something to offer everyone. As you embark on a wine adventure in this enchanting valley, be sure to savor the diverse flavors, rich traditions, and stunning landscapes that make the Douro Valley a truly remarkable wine destination.
Check out our tours and experiences in the Douro Valley and book yours now!