Porto, the vibrant and picturesque city nestled along the Douro River in Portugal, is a haven for food lovers, wine enthusiasts, and shopaholics alike. With its rich culinary heritage, centuries-old wine culture, and thriving shopping scene, Porto offers a delightful experience for those seeking a blend of gastronomy, culture, and indulgence. In this article, we'll take you on a journey through some of the best places to eat, drink, and shop in Porto, so you can fully savor the essence of this captivating city.
Where to Eat?

Have an authentic gastronomic experience in Mercado do Bolhão (food market)

Immerse yourself in the bustling atmosphere of Mercado do Bolhão, Porto's iconic market. Here, you'll find an array of fresh produce, aromatic spices, and local delicacies. Indulge in a diverse range of Portuguese cheeses, olives, and cured meats while mingling with the locals. For an authentic dining experience, try Casa Guedes, a small eatery within the market, renowned for its slow-roasted pork sandwiches.
Try this iconic hot dog at Cervejaria Gazela

Cervejaria Gazela is a historic space of the city of Porto, awarded with numerous prizes and a mandatory stop in any gastronomic itinerary. It is known above all for its hot dogs, which are, nowadays, one of the most sought-after and iconic snacks in the city of Porto and an example of the best comfort food you can find. They are made on toasted, narrow bread, with fresh, spicy sausage and melted cheese, cut into small pieces and served with a cold beer (known as "fino" due to its small size). We warn you that it will be difficult to eat just one! In addition to the hot dogs, be sure to try the famous prego.
Enjoy the most famous dish of Porto at Café Santiago
Café Santiago is a legendary establishment in Porto, famous for serving one of the city's most iconic dishes: the Francesinha. This hearty sandwich has become a culinary symbol of Porto and a must-try for visitors seeking an authentic taste of the city's gastronomy.
The sandwich typically consists of layers of different meats, such as steak, ham, and sausage, topped with melted cheese. It is then enveloped in a thick slice of bread and smothered in a rich and savory tomato-based sauce. To add an extra touch, the Francesinha is often accompanied by a fried egg and served with a side of french fries. Café Santiago's Francesinha is a culinary masterpiece, with tender meats, a flavorful sauce, and a cozy ambiance. It's a must-try when visiting Porto, offering a taste of the city's local dining culture. Come hungry and experience this beloved dish that represents Porto's gastronomic heritage.
Looking for a gastronomic experience of excellence? Go to Le Monument
At Le Monument Restaurant you are guaranteed an extraordinary and surprising gourmet experience. Local products are the center of attention, ensuring the quality and freshness of the ingredients at the highest level. It is a unique gourmet restaurant in Porto, Michelin-starred, which invites you to discover the richness of portuguese gastronomy, enhanced by the excellence of French cuisine.
Located on the ground floor and only accessible from the hotel, Le Monument exudes an intimate atmosphere and has a modern and elegant décor, in harmony with the cuisine and true to the spirit of the place. To maintain this intimate and exclusive atmosphere, the restaurant is only open at dinner.


Have a Michelin-starred meal with a stunning view at Casa de Chá da Boa Nova
Perched on the cliffs of Matosinhos, overlooking the Atlantic Ocean, Casa de Chá da Boa Nova is a culinary masterpiece designed by renowned architect Álvaro Siza Vieira. This two-Michelin-starred restaurant, led by chef Rui Paula, celebrates the harmony between architecture and gastronomy.
The menu features a fusion of traditional Portuguese flavors and innovative techniques, taking diners on a gastronomic adventure. Immerse yourself in the breathtaking surroundings while savoring the exquisite dishes crafted at Casa de Chá da Boa Nova.


Where to Drink?

Visit Port Wine cellars and learn about the production process
No visit to Porto would be complete without exploring the famous port wine cellars of Vila Nova de Gaia. Cross the iconic Dom Luís I Bridge and venture into cellars such as Graham's, Taylor's, or Sandeman, where you can learn about the intricate process of port wine production and indulge in tastings. Raise a glass of port while enjoying breathtaking views of the city and the Douro River.


The Yeatman is the place to drink good wine and enjoy the best views over Porto
The Yeatman, located in the beautiful city of Porto, is not only a luxurious hotel but also a wine lover's paradise. This extraordinary establishment offers a drinking experience like no other, with a focus on the region's renowned wines and breathtaking panoramic views.
Located on a terrace overlooking the Douro River, offers a picturesque setting to unwind and savor the exceptional wines on offer. The bar's extensive menu includes a diverse selection of both local and international wines, ensuring there is something to suit every palate. You can enjoy a glass of your favorite wine while taking in the breathtaking panoramic views of Porto's historic cityscape.
Taste a glass of wine while appreciating the stunning views over Rio Douro at Wine Quay Bar
Situated on the banks of the Douro River, Wine Quay Bar provides a picturesque setting to appreciate a glass of wine while taking in stunning views of the river and Porto's colorful riverside buildings. It's the first wine bar of Porto and is specialized in Port wines, offering an extensive selection to suit various preferences. Whether you prefer a tawny, vintage, or ruby Port, Wine Quay Bar is the ideal spot to indulge in these renowned local treasures.
Capela Incomum is, probably, the most unusual place to drink wine
Capela Incomum in Porto is a captivating wine bar and concept store located in the Cedofeita neighborhood. Housed in a renovated chapel, it offers an impressive selection of Portuguese wines. The venue's unique atmosphere blends contemporary design with original architectural features. Capela Incomum also hosts cultural events, such as art exhibitions and live music performances, creating a vibrant ambiance. With knowledgeable staff and a concept store, it's a must-visit for wine enthusiasts seeking a distinct and immersive experience in Porto.
Drink a signature cocktail at the trendy Bonaparte Downtown
This stylish bar located near the iconic Torre dos Clérigos is known for its sophisticated yet relaxed ambiance. Bonaparte Downtown offers a wide range of classic and signature cocktails, along with an extensive selection of spirits and wines. The outdoor seating area provides a great vantage point for people-watching while enjoying your drink.

Where to Shop?

Go shopping at Santa Catarina Street, the most vibrant pedestrian street of Porto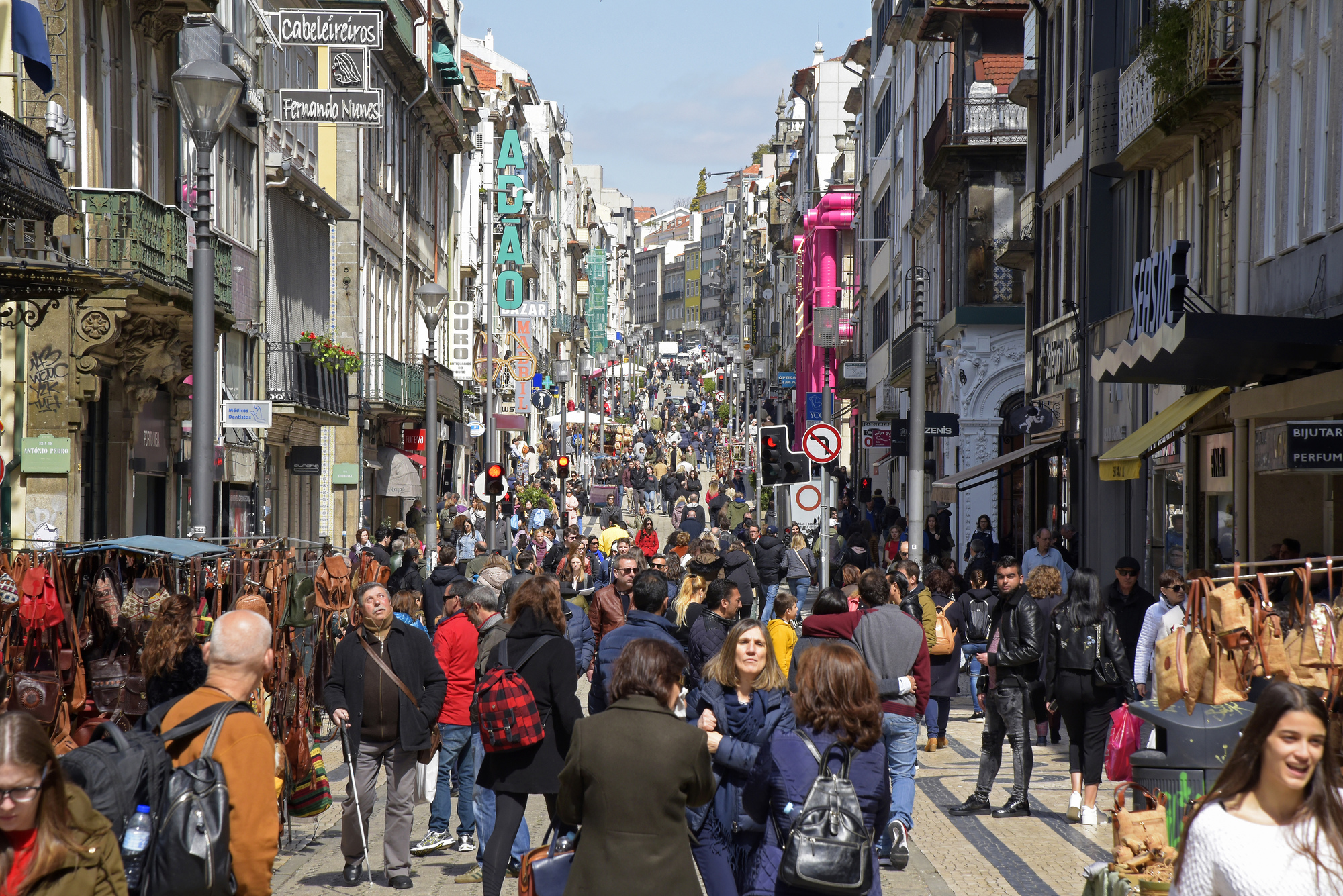 Santa Catarina Street, or Rua de Santa Catarina, is one of Porto's most famous and vibrant shopping destinations. Stretching for about a kilometer from Praça Marquês de Pombal to Praça da Batalha, this bustling pedestrian street offers a diverse mix of shops, boutiques, and department stores. But is not just about shopping; it's a vibrant and dynamic destination where you can experience the local culture, indulge in retail therapy, and enjoy the lively atmosphere. So, put on your walking shoes and explore the bustling shops and hidden treasures of this iconic Porto street.
Get a premium soap at Claus Porto
Established in 1887, Claus Porto is a renowned Portuguese soap and fragrance brand. Their beautifully designed shop in Porto offers a wide range of exquisite soaps, colognes, and skincare products. Indulge in the captivating scents and elegant packaging that reflect the brand's heritage and craftsmanship.
A concept store where art and design meet called Almada 13
Águas Furtadas and Rota do Chá are the shops we find at Almada 13, a concept store where art and design go hand in hand to promote the best that Portugal has to offer.
Here, in a space that once housed a hardware shop, the decoration remains in an industrial style, which gives personality to the space and invites us to explore each area to discover the relaxed elements. The clothes, accessories, colours and patterns bring life to the grey, concrete walls, and the relaxed atmosphere challenges us to discover the Portuguese designers who sell their pieces at Almada 13.
Loja das Conservas is a heaven for Portuguese canned fish lovers

There is a shop in Porto that requires no introduction. Loja das Conservas it is a haven for lovers of Portuguese canned fish, a delicacy that I am particularly fond of. Step into this shop and embark on a culinary journey organized by brands hailing from various coastal regions of the country.
Among the stars of the show are the sardines and mackerels, but the selection extends to include octopus, cockles, cod, mussels, swordfish, and more. With such an abundance of fish varieties, choosing may prove to be a delightful challenge. To enhance the flavors, you'll find a variety of sauces, with tomato and extra virgin olive oil being the most common, as well as an array of spices like cloves, lemon, ginger, and pepper.
Porto, with its delectable cuisine, rich wine heritage, and diverse shopping options, offers a delightful sensory experience for every visitor. From savoring traditional dishes in the Ribeira district to exploring the cellars of Vila Nova de Gaia, and from strolling down Rua de Santa Catarina to browsing through the Mercado Porto Belo, the city reveals a tapestry of flavors, culture, and retail therapy. So, embark on this gastronomic adventure and let Porto captivate your senses, one bite, sip, and purchase at a time.