Lisbon, the charming capital of Portugal, is a city that effortlessly blends history, culture, and modernity. With its picturesque streets, vibrant neighborhoods, and stunning coastline, it's no wonder that Lisbon has become one of Europe's most popular travel destinations. If you're planning a trip to this enchanting city, one of the first things to consider is where to stay. To help you make the most of your visit, we've compiled a list of the best areas to stay in Lisbon and why they're worth your consideration.
Baixa - Chiado: Heart of the City
Baixa and Chiado are two of the most iconic neighborhoods in the city that make up the historic center of Lisbon and is located in the heart of Lisbon. Baixa is known for its wide, grid-like streets, historic squares, and beautifully restored 18th-century architecture. Chiado, on the other hand, is famous for its upscale boutiques, art galleries, and lively café culture.
Why Stay Here?
Staying in Baixa or Chiado means you'll be within walking distance of major landmarks like Praça do Comércio, Rossio Square, and the historic Santa Justa Elevator. The area is well-connected by public transport, making it easy to explore the rest of the city. Plus, you'll have a plethora of dining options, from traditional Portuguese tascas to trendy restaurants.
Historical Significance: Baixa is known for its grandeur, with wide avenues, neoclassical architecture, and beautiful squares like Praça do Comércio. It's a living museum of 18th-century urban planning.
Cultural Attractions: In Chiado, you'll find cultural highlights like the Chiado Museum and the historic Café A Brasileira, where intellectuals used to gather. Both neighborhoods offer a great mix of art galleries, theaters, and bookshops.
Convenient Location: Baixa - Chiado is centrally located, making it an ideal starting point for exploring other parts of Lisbon. You'll have easy access to public transportation, including trams and buses.
Shopping and Dining: Chiado is known for its upscale shopping, with international and local designer boutiques. It's also home to numerous restaurants, cafés, and pastelarias where you can savor Portuguese delicacies.
Bairro Alto: Bohemian Vibes
If you're looking for a neighborhood that comes alive after dark, Bairro Alto is the place to be. By day, it's a peaceful area with narrow streets and historic buildings, but by night, it transforms into a bustling hub of nightlife, with bars, clubs, and fado houses lining the streets.
Why Stay Here?
Bairro Alto is perfect for night owls and those seeking a vibrant atmosphere. While it can get noisy at night, the daytime ambiance is relaxed and charming. It's also centrally located, making it easy to explore other parts of Lisbon during the day.
Nightlife: Bairro Alto is the epicenter of Lisbon's nightlife. Once the sun sets, the streets come alive with revelers, live music, and cozy bars. It's perfect if you enjoy a lively and vibrant atmosphere.
Street Art: The neighborhood is famous for its colorful street art and graffiti, which adds character to the narrow streets and alleyways.
Unique Cafés and Boutiques: During the day, Bairro Alto retains a unique charm with its quirky cafés, vintage shops, and street food vendors. It's a great place for exploring on foot.
Central Location: Like Baixa - Chiado, Bairro Alto is centrally located, making it easy to explore other parts of Lisbon during the day.
Alfama: Historic Charm
Alfama is Lisbon's oldest neighborhood and is characterized by its maze-like streets, colorful houses, and breathtaking views of the Tagus River. This district has retained much of its medieval charm and is home to many historic sites, including São Jorge Castle.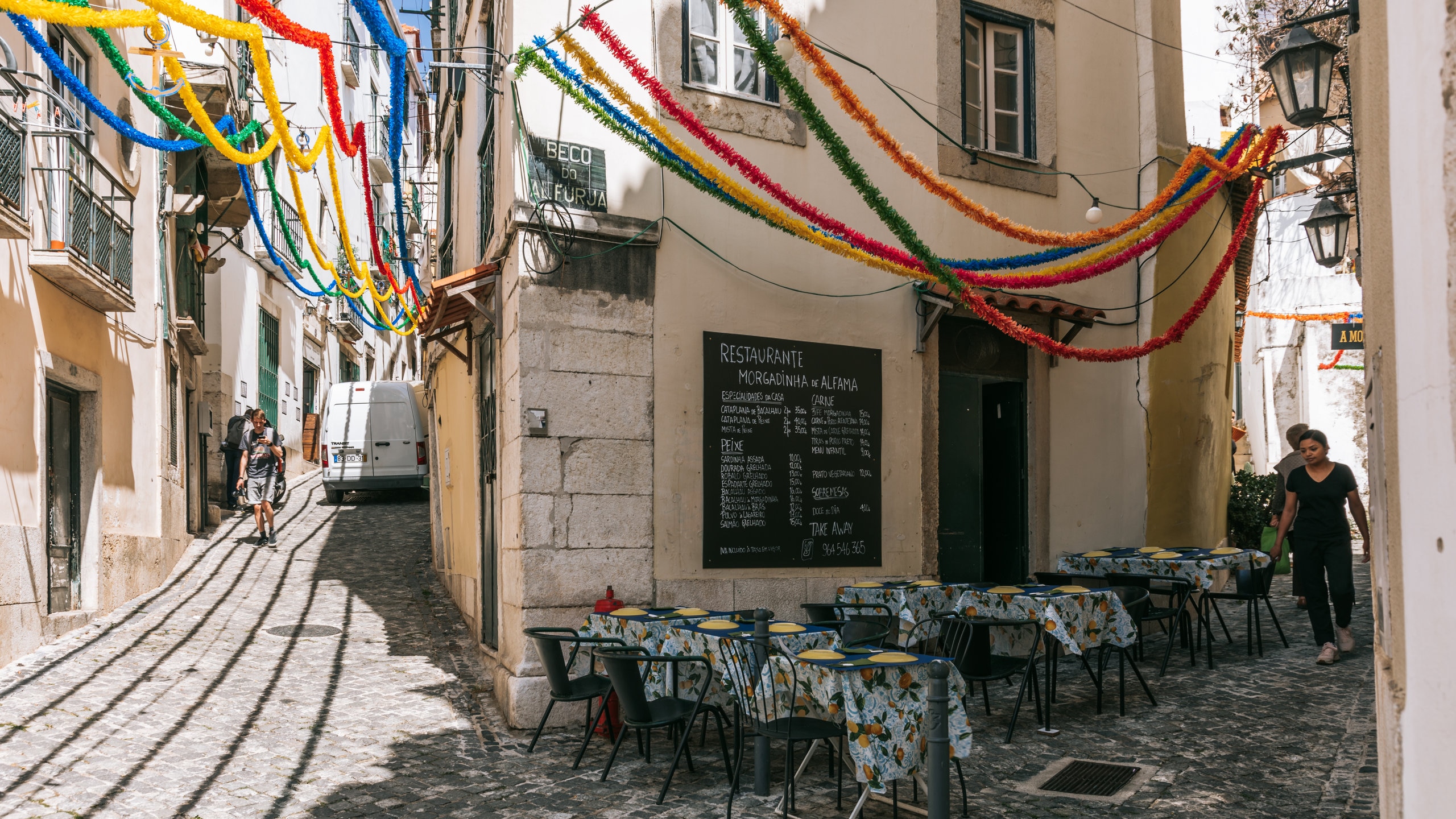 Why Stay Here?
If you're a history enthusiast or simply want to immerse yourself in Lisbon's rich past, Alfama is a top choice. The narrow streets, quaint squares, and the sounds of traditional fado music drifting through the air create a truly unique atmosphere. While it may not have as many modern amenities as other areas, the historic charm more than compensates.

Historical Sites: Alfama is home to São Jorge Castle, one of Lisbon's most iconic landmarks, offering panoramic views of the city. The neighborhood is also dotted with historic churches and museums.
Authentic Atmosphere: Wandering through Alfama's labyrinthine streets feels like stepping back in time. You'll encounter traditional fado music performances in intimate venues and discover hidden squares and tiled facades.
Local Flavor: Alfama is known for its authentic tascas (taverns) where you can savor traditional Portuguese dishes and wines. It's an excellent place to immerse yourself in local culture.
Scenic Views: Alfama's hillside location provides stunning vistas of the Tagus River and the city, especially from the Miradouro da Senhora do Monte viewpoint.
Belém: Cultural Hub
Located a bit further west along the river, Belém is a treasure trove of cultural and historical attractions. Here, you'll find the iconic Belém Tower, the Jerónimos Monastery, and the Monument to the Discoveries, all set against the backdrop of the waterfront.
Why Stay Here?
Belém offers a quieter and more relaxed stay compared to the city center, making it an excellent choice for travelers who prefer a peaceful atmosphere. It's also a great base if you plan to explore the historic sites along the waterfront. Don't forget to indulge in the famous pastéis de nata (custard tarts) at the renowned Pastéis de Belém bakery.

Historical Monuments: This district boasts some of Lisbon's most iconic monuments, including Belém Tower, Jerónimos Monastery, and the Monument to the Discoveries. They showcase Portugal's rich maritime history.
Riverfront Setting: Belém's waterfront location offers scenic walks along the river, making it a tranquil escape from the city's hustle and bustle.
Cultural Institutions: In addition to its historic sites, Belém is home to cultural institutions like the Berardo Collection Museum and the impressive MAAT (Museum of Art, Architecture, and Technology).
Pastéis de Belém: Don't forget to visit Pastéis de Belém, the legendary bakery that has been serving up delicious pastéis de nata for nearly two centuries.
Parque das Nações: Modern Comfort
If you're seeking a more contemporary and upscale experience, Parque das Nações is the place to be. This waterfront district was revitalized for the 1998 World Expo and is now home to modern architecture, a large shopping mall, restaurants, and cultural venues like the Oceanarium.
Why Stay Here?
Parque das Nações offers a different side of Lisbon, with sleek, modern buildings and a focus on comfort and convenience. It's an excellent choice for families and those who appreciate a more urban and less touristy environment.
Modern Architecture: This district was rejuvenated for the 1998 World Expo, and its modern architecture is striking. The most notable is the Vasco da Gama Tower.
Shopping and Entertainment: Parque das Nações is home to the Vasco da Gama Shopping Center, a massive mall with shops, restaurants, and a cinema. There's also the Lisbon Oceanarium, one of Europe's largest indoor aquariums.
Peaceful Environment: Compared to the bustling city center, Parque das Nações offers a quieter and more residential feel. It's an ideal choice for families or travelers who appreciate a more tranquil environment.
Riverfront Promenade: Enjoy leisurely walks along the riverfront promenade and take in views of the Vasco da Gama Bridge, one of Europe's longest bridges.
Príncipe Real: A Tranquil Oasis with a Bohemian Twist
Nestled between Bairro Alto and Avenida da Liberdade, Príncipe Real is a chic and trendy neighborhood that has gained popularity in recent years. It combines a relaxed, almost village-like atmosphere with a bohemian touch.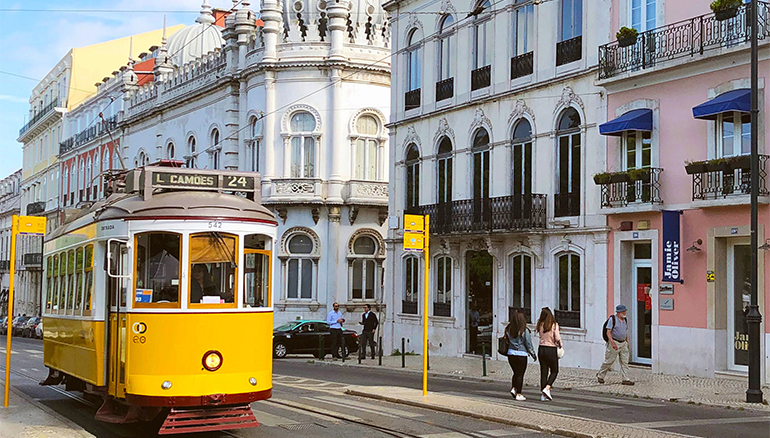 Why stay here?
Despite its tranquil atmosphere, Príncipe Real is still centrally located, with easy access to public transportation. You can reach many of Lisbon's key attractions within walking distance or a short tram or bus ride.
Lush Gardens: The centerpiece of Príncipe Real is the stunning Jardim do Príncipe Real (Príncipe Real Garden). This leafy park is a peaceful retreat from the bustling city, featuring tall trees, exotic plants, and a tranquil lake. It's the perfect spot for a leisurely stroll, a picnic, or simply unwinding under the shade of the trees.
Designer Boutiques and Concept Stores: Príncipe Real is known for its stylish boutiques and concept stores, offering unique fashion, jewelry, and home décor items. The neighborhood has become a hub for creative and independent designers, making it an excellent place for shopping for one-of-a-kind souvenirs.
Art Galleries and Antique Shops: The streets of Príncipe Real are dotted with art galleries and antique shops. Art enthusiasts and collectors will find plenty to explore in this neighborhood.
Nightlife: While not as boisterous as Bairro Alto, Príncipe Real has a vibrant nightlife scene. The neighborhood comes alive after dark, with numerous bars and restaurants offering a relaxed ambiance for a night out.
In conclusion, Lisbon is a city of diverse neighborhoods, each offering a unique experience. The best area for you to stay in depends on your preferences and interests. Whether you're drawn to the historic charm of Alfama, the vibrant nightlife of Bairro Alto, or the modern comforts of Parque das Nações, Lisbon has something to offer every traveler. So, choose your neighborhood wisely, and get ready to explore the beauty and culture of this incredible city.

See our tours and experiences in Lisbon and come discover the Portugal's vibrant capital with us!