Can you imagine a land full of green fields, warm waters, lush landscapes, volcanic mountains, tea plantations and pineapple greenhouses? That is São Miguel, the largest and most populous island in the Azores archipelago, a group of Portuguese islands located in the Atlantic Ocean. It is situated approximately 1,500 kilometers west of mainland Portugal. São Miguel is often referred to as "The Green Island" due to its stunning landscapes, lush vegetation, and volcanic features.
In addition to its natural beauty, São Miguel also has a rich cultural heritage, with traditional festivals, handicrafts, and local cuisine to explore. Whether you're an adventure seeker or a nature lover, São Miguel offers a diverse range of experiences that make it a popular destination for travelers visiting the Azores.
There are some highlights and features of this magical island that you can't miss:

What to do in São Miguel?
São Miguel it's a quiet place, but there is a lot to do here. If you love nature, we can assure you it will not disappoint at all!
Start exploring Ponta Delgada, the capital city of the Azores. Meander through its charming streets, marvel at the historical architecture and make sure to visit iconic landmarks such as Portas da Cidade (City Gates) and the São Sebastião and São José churches. Don't forget to wander along the lively waterfront area, where you can indulge in the local restaurants, cozy cafes, and delightful shops.
No trip to the Azores would be complete without a visit to Sete Cidades. Prepare to be captivated by the awe-inspiring beauty of the twin lakes nestled within a volcanic crater. One lake appears blue, while the other displays a vibrant green hue. Whether you choose to hike or drive to the viewpoints, you'll be rewarded with breathtaking panoramic vistas. For a deeper immersion in the natural surroundings, venture along the trails that encircle the lakes.
For a rejuvenating experience, make your way to the natural hot springs that São Miguel is renowned for. In Furnas, you can indulge in a relaxing bath in the thermal pools and even savor the unique cozido das Furnas, a traditional dish cooked using volcanic heat. Another spot to unwind is Caldeira Velha, where you can soak in warm pools surrounded by lush vegetation and cascading waterfalls.
Embark on an enchanting hike to Lagoa do Fogo (Lake of Fire), located at the heart of the island. The trail offers awe-inspiring views of the pristine lake and its serene surroundings. Alternatively, you can opt to drive to the viewpoints, where you'll be treated to equally mesmerizing vistas without the need for hiking.
Head to the eastern side of the island to explore Nordeste, celebrated for its scenic beauty. Marvel at the rugged coastlines, majestic cliffs, and graceful waterfalls, Nordeste beckons with its tranquil hiking trails and picturesque gardens, such as the Parque Natural da Ribeira dos Caldeirões, inviting you to unwind amidst nature's splendor.
São Miguel also offers an array of exciting water activities. Embark on a boat tour from Ponta Delgada to witness the majestic presence of whales and dolphins. If you're seeking a more adventurous experience, try your hand at surfing or stand-up paddleboarding along the island's stunning coastline.
Take the opportunity to visit the tea plantations, a unique feature of São Miguel. Explore the Gorreana or Chá Porto Formoso tea estates, where you can delve into the intricacies of tea production, take leisurely strolls through the fields, and relish a cup of locally grown tea.
Discover the charms of Ribeira Grande, a town renowned for its colonial architecture and historical heritage. Immerse yourself in the town center, pay a visit to the Igreja Matriz (Mother Church), and meander through the picturesque streets that exude an irresistible old-world charm.
São Miguel caters to outdoor enthusiasts with an abundance of activities. Traverse the Sete Cidades crater on foot, explore the trails of Terra Nostra Park, or indulge in birdwatching in the island's nature reserves. For those seeking an adrenaline rush, try canyoning or mountain biking.
Last but certainly not least, don't miss the opportunity to savor the delectable local cuisine of São Miguel. Treat your taste buds to fresh seafood dishes, traditional Azorean stews, and local specialties like cozido das Furnas (Furnas stew) and queijadas (pastries). Visit local markets to sample the bounty of fresh produce and regional delicacies that the island has to offer.
Where to eat?
The answer you are looking for since the beginning of this article, right? We don't blame you, the food is really good! São Miguel Island is known for its rich culinary offerings, ranging from fresh seafood to traditional Azorean dishes.
Already salivating? Here are our best suggestions of places to eat across the island, where you will have the opportunity to taste delicious fresh ingredients:
Ponta Delgada
Furnas
Ribeira Grande
Do you want to have the experience of a local in São Miguel?
Good news! We've got the best tour packages for you! Our experienced local guides will show you the authentic side of the island and take you to places that not everybody knows.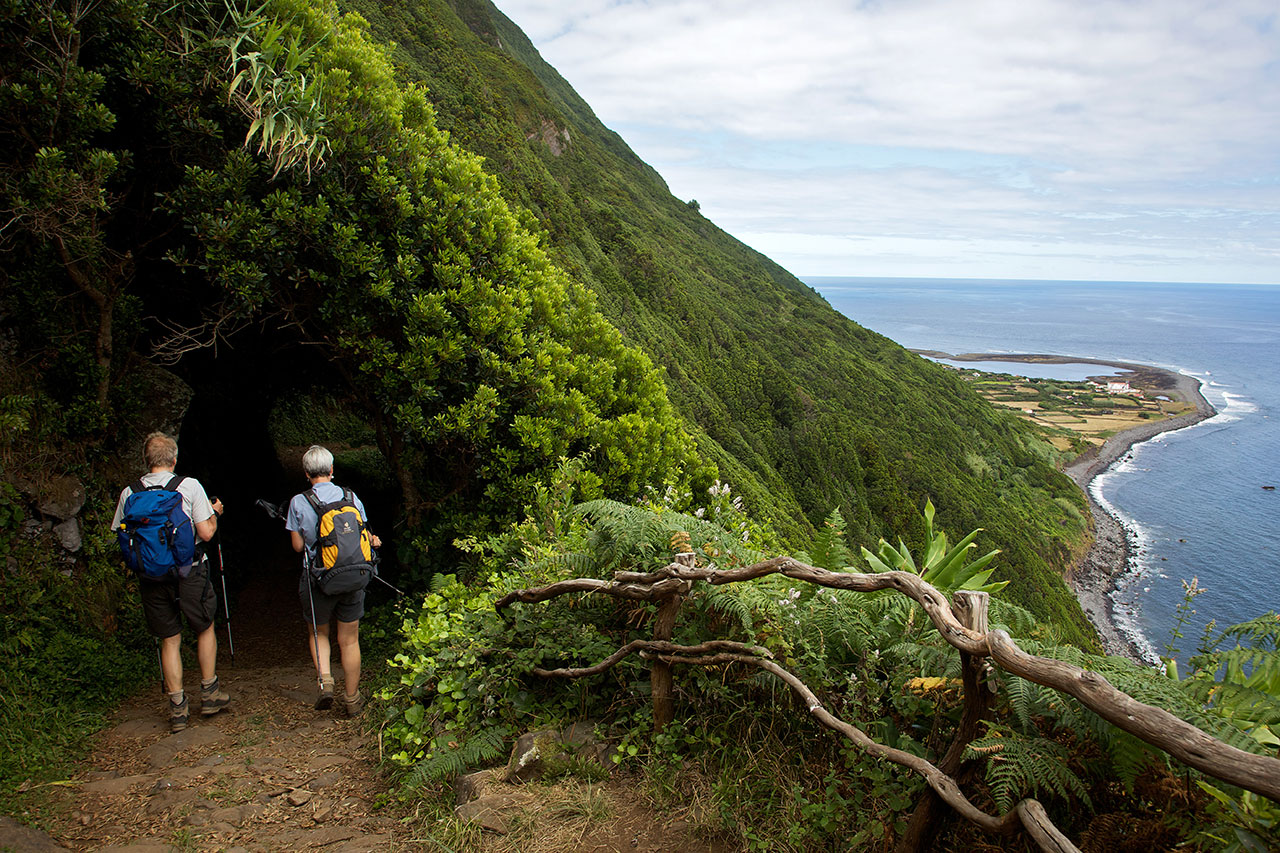 Discover the ideal private tour for you and have the experience of your life:
Best of Azores - 7 days in São Miguel: Experience the best of Europe's last paradise during a 7-day all-inclusive tour! A true paradise of landscapes, food and nature.
Best of Porto & Azores in 9 days: Join this exciting adventure that encompasses the best hidden gems of Porto and Azores. A 9-day tour filled with breathtaking landscapes.
City and Nature Wonders: Best of Lisbon and The Azores - 9 days: The tour that will show the best of two worlds: city and nature wonders. Enjoy the capital city, Lisbon, and then fly to the beautiful island of são Miguel and be in touch with nature everyday.
Today, São Miguel Island is a thriving destination that combines its rich history with stunning landscapes, outdoor activities, and a growing tourism sector. The island's historical heritage can still be observed in its architecture, churches, and cultural traditions, while its natural wonders continue to captivate visitors.
Whether you're seeking natural beauty, outdoor adventures, cultural experiences, or culinary delights, the island offers something unique for everyone.